Something of the Night
A Paperback edition by Ian Marchant (Jan 31, 2013)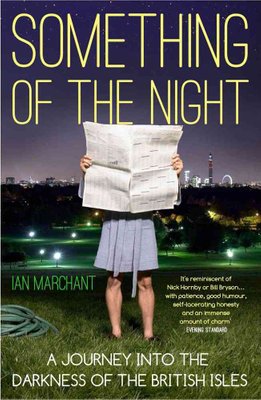 Sorry we don't currently have this.

Short Description: Who can say what the night might bring? ... Read more
Product Description
Who can say what the night might bring?
Mummy tucking you up with Teddy and a cup of Ovaltine? Fireworks and frivolity? A party? Music? Dancing? Or you could be reading in bed, between clean linen sheets before falling into deep and restful sleep and sweet dreams. And who knows; the night might bring romance, or love, or sex, if you play your cards right. Or you might be working; millions of people work at night. If nobody worked at night, Britain would cease to function. Or the night might be cold, haunted, inhuman and wild. When you look up into the night sky, you see that you are nothing. An insignificant mote of dust.
Or the night could be all too human. Hen parties in skimpy dresses and fairy wings being slammed into the back of a police van; girls working on street corners in the part of town where the lights don't come on; businessmen going to lap-dancing clubs to forget what waits at home.
Or you could die. Most people do die at night. Or you could just lie awake and wait for the dawn.
Set over the course of an intoxicated night in a house up a mountain in West Cork, Ian Marchant offers a darkly funny account of what people get up to at night, explores his own experience of a life of night times, and shows us how we all have something of the night about us.
Something of the Night Paperback edition by Ian Marchant
Product Details
Product Specification
Author

ISBN-13

9781847397799

Format

Paperback,

Publisher

Publication date

Jan 31, 2013

Pages

304

Product dimensions

132 x 198 x 24mm

Weight

214g
Categories