Starfinder Flip-Mat: Basic Starfield
Game by Jason A. Engle and Stephen Radney-MacFarland in English (Sep 5, 2017)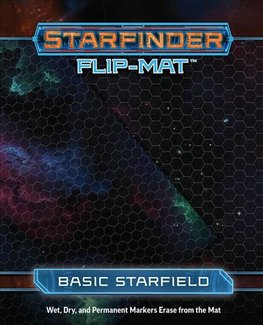 $17.76 + FREE delivery
RRP $19.99 You save $2.23 (11%)
Short Description: Worlds of Adventure... Read more
Product Description
Worlds of Adventure
An alien landscape, an abandoned spacestation, the twisting corridors of your own starship-the possibilities foradventure are endless with Starfinder Flip-Mat: Basic Terrain! Designedfor the Starfinder Roleplaying Game but appropriate for any RPG, this invaluablegaming accessory presents two subtle textures-dusty ground on one side and metalfloor plating on the other-providing Game Masters a blank canvas on which todraw any terrestrial battlefield, space-age facility, or adventure set piecethey desire. Whether your party is facing down a convoy of ratfolk scavengers orbreaking into a robot prison on a machine planet, you'll always have the rightmap at hand.
Don't feel like you always have to run yourgame in someone else's world. With Starfinder Flip-Mat: Basic Terrain,the setting of your next adventure is wherever you can imagine!
? 24" × 30" mat
? Folds to 8" ×10"
? 1" squares on eachside
ISBN-13: 978-1-60125-962-2
PZO7302 Starfinder Flip-Mat:Basic Starfield
Battle Among the Stars
Fill the peaceful void of space with missilesand laser strikes with Starfinder Flip-Mat: BasicStarfield!
Created with a hex grid for the StarfinderRoleplaying Game's unique starship combat system, Flip-Mat: BasicStarfield comes with two different backgrounds-a starlit void in deep spaceand the brilliant radiance of a nebula-to let you craft epic starship battlesand fire your players' imaginations. Whether your party consists of boldstarfighter pilots strafing an enemy dreadnought or intrepid smugglers running acorporate blockade, this extra-large Flip-Mat has you covered.
Don't just describe your starshipbattles-make sure your players experience the excitement of every dogfight andevasive maneuver in the perilous vacuum of space with Starfinder Flip-Mat:Basic Starfield!
? 27" × 39" mat
? Folds to 8" ×10"
? 1" hexes on eachside
"Price Includes VAT"
Starfinder Flip-Mat: Basic Starfield Game edition by Jason A. Engle