Take a Tea Towel
A Paperback edition by Jemima Schlee in English (Feb 12, 2015)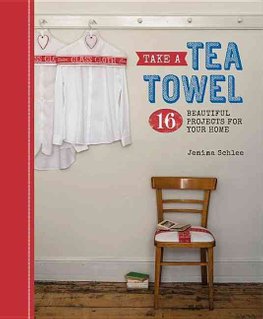 $14.57 + FREE delivery
RRP $19.95 You save $5.38 (26%)
Short Description: Crisp and clean as a freshly laundered shirt?16 projects made with genuine tea towels! Durable, classic, beautiful Irish linen tea towels are the basis for the Shaker-inspired home... Read more
Product Description
Crisp and clean as a freshly laundered shirt?16 projects made with genuine tea towels! Durable, classic, beautiful Irish linen tea towels are the basis for the Shaker-inspired home projects in Take a Tea Towel. This ingenious book provides 16 pure, practical, and lovely projects for 4 main rooms in your home?bathroom, kitchen, laundry, and workroom.
Add classic Shaker-style details to your home, easily and expertly. There are seven easy-to-follow project templates so you can quickly sew up something pretty special. All projects are suited for beginners and those who want to properly develop their skills. You will learn machine and hand-sewing techniques, plus a variety of interesting and attractive ways to adorn materials with embroidery, dying fabrics, photo transfers, Dorset button making, fabric painting, and more.
Some of the 16 tea towel projects include:
Chair seatBathroom window panelChef's apronTea cozyVegetable bagsPadded coat hanger coversSewing machine matSo much to inspire you! This first book in the Take a? series is ideal for those who love the clean, simple, utilitarian-style Shaker designs that will beautify your home like no other style can! Take a Tea Towel features nearly 350 color photographs to stir your creativity and help you to envision your results.
Take a Tea Towel Paperback edition by Jemima Schlee