Teaching Thinking Skills
A Paperback edition by Christopher Winch in English (Mar 10, 2010)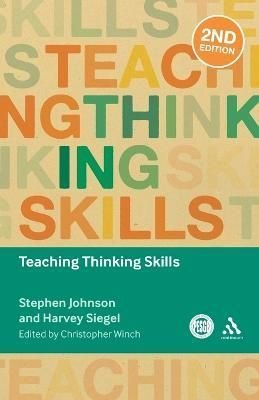 Short Description: Teaching Thinking Skills by Steve Johnson was initially published by the Philosophy of Education Society of Great Britain in 2000. In this new edition, Johnson has updated his... Read more
Product Description
Teaching Thinking Skills by Steve Johnson was initially published by the Philosophy of Education Society of Great Britain in 2000. In this new edition, Johnson has updated his argument, Harvey Siegel has contributed a counter-argument and Christopher Winch has provided a foreword and afterword drawing the debates together.
The issues debated in this new edition of Teaching Thinking Skills include:
Do thinking skills exist?
What are the aims of education?
Can thinking skill be taught?
Are thinking skills transferable?
Teaching Thinking Skills raises issues not only for those concerned with thinking skills per se but more broadly for those concerned with the role of thinking in professional and vocational activities and with the extent to which abilities are broad or narrow, transferable or non-transferable.
Teaching Thinking Skills Paperback edition by Christopher Winch
Product Details
Product Specification
Edited by

Edited by

Edited by

ISBN-13

9781441186560

Series

Format

Paperback,

Publisher

Publication date

Mar 10, 2010

Edition

Edition Number 2; Revised

Pages

144

Product dimensions

139 x 216 x 14mm

Weight

188g
Series Editor's Preface - Key Debates in Education Policy; Foreword by Christopher Winch; Part I - Teaching Thinking Skills by Stephen Johnson; Part II - On Thinking Skills by Harvey Siegel; Afterword by Christopher Winch; Index.
Categories