The Bible Unearthed
: Archaeology's New Vision of Ancient Israel and the Origin of Its Sacred Texts
A Paperback edition by Israel Finkelstein and Neil Asher Silberman in English (Jun 8, 2002)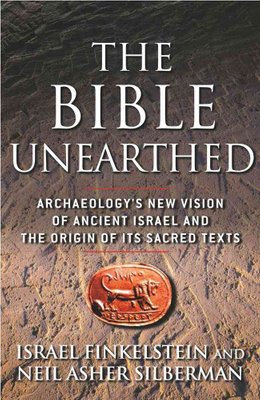 $13.90 + FREE delivery
RRP $18.00 You save $4.10 (22%)
Short Description: In this groundbreaking work that sets apart fact and legend, authors Finkelstein and Silberman use significant archeological discoveries to provide historical information about... Read more
Product Description
In this groundbreaking work that sets apart fact and legend, authors Finkelstein and Silberman use significant archeological discoveries to provide historical information about biblical Israel and its neighbors.
In this iconoclastic and provocative work, leading scholars Israel Finkelstein and Neil Asher Silberman draw on recent archaeological research to present a dramatically revised portrait of ancient Israel and its neighbors. They argue that crucial evidence (or a telling lack of evidence) at digs in Israel, Egypt, Jordan, and Lebanon suggests that many of the most famous stories in the Bible?the wanderings of the patriarchs, the Exodus from Egypt, Joshua's conquest of Canaan, and David and Solomon's vast empire?reflect the world of the later authors rather than actual historical facts.
Challenging the fundamentalist readings of the scriptures and marshaling the latest archaeological evidence to support its new vision of ancient Israel, The Bible Unearthed offers a fascinating and controversial perspective on when and why the Bible was written and why it possesses such great spiritual and emotional power today.
The Bible Unearthed Paperback edition by Israel Finkelstein
Product Details
Product Specification
Author

Author

ISBN-13

9780684869131

Format

Paperback,

Publishers

Publication date

Jun 8, 2002

Edition

Reprint

Pages

400

Product dimensions

142 x 215 x 29mm

Weight

386g
Contents
Prologue: In the Days of King Josiah
Introduction: Archaeology and the Bible
PART ONE
The Bible as History?
Searching for the Patriarchs
Did the Exodus Happen?
The Conquest of Canaan
Who Were the Israelites?
Memories of a Golden Age?
PART TWO
The Rise and Fall of Ancient Israel
One State, One Nation, One People? (C. 930-720 BCE)
Israel's Forgotten First Kingdom (884-842 BCE)
In the Shadow of Empire (842-720 BCE)
PART THREE
Judah and the Making of Biblical History
The Transformation of Judah (C. 930-705 BCE)
Between War and Survival (705-639 BCE)
A Great Reformation (639-586 BCE)
Exile and Return (586-C. 440 BCE)
Epilogue: The Future of Biblical Israel
Appendix A: Theories of the Historicity
of the Patriarchal Age
Appendix B: Searching for Sinai
Appendix C: Alternative Theories of the Israelite Conquest
Appendix D: Why the Traditional Archaeology of the
Davidic and Solomonic Period Is Wrong
Appendix E: Identifying the Era of Manasseh
in the Archaeological Record
Appendix F: How Vast Was the Kingdom of Josiah?
Appendix G: The Boundaries of the Province of Yehud
Bibliography
Index
Categories
Non-Fiction History, Politics & Philosophy Archaeology Archaeology By Period / Region Biblical Archaeology