The Cambridge Ancient History 14 Volume Set in 19 Hardback Parts: Late Antiquity: Empire and Successors, AD 425-600 Volume 14
A Hardback edition by Averil Cameron in English (Mar 29, 2001)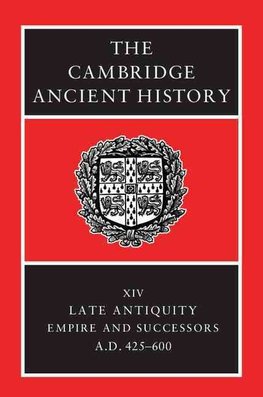 $268.04 + FREE delivery
RRP $366.00 You save $97.96 (26%)
Short Description: The concluding volume of The Cambridge Ancient History series contains 31 wide-ranging contributions which draw on the full range of sources to provide a comprehensive picture of... Read more
Product Description
The concluding volume of The Cambridge Ancient History series contains 31 wide-ranging contributions which draw on the full range of sources to provide a comprehensive picture of both the political and military upheavals of this transitional period as well as its cultural and intellectual achievements. Following a chronological overview the chapters are divided into four thematic sections: Government and institutions; Economy and Society; The provinces and non-Roman world; Religion and culture.
The Cambridge Ancient History 14 Volume Set in 19 Hardback Parts: Late Antiquity: Empire and Successors, AD 425-600 Volume 14 Hardback edition by Averil Cameron
Product Details
Product Specification
Edited by

Edited by

Edited by

ISBN-13

9780521325912

Series

Format

Hardback,

Publisher

Publication date

Mar 29, 2001

Edition

Subsequent

Pages

1,185

Product dimensions

162 x 240 x 68mm

Weight

1,768g
Part I. Chronological Overview: 1. The Western Empire, 425-476 Peter Heather; 2. The Eastern Empire: Theodosius to Anastasius A. D. Lee; 3. Justin I and and Justinian Averil Cameron; 4. The successors of Justinian Michael Whitby; 5. The Western Kingdoms Roger Collins; Part II. Government and Institutions: 6. Emperor and court M. McCormick; 7. Government and administration Sam Barnish, A. D. Lee and Michael Whitby; 8. Administration and politics in the cities of the fifth to mid-seventh centuries: 425-640 J. H. W. G. Liebeschuetz; 9. Roman law Detlef Liebs; 10. Law in the Western Kingdoms between the fifth and the seventh centuries T. M. Charles-Edwards; 11. The army, c. 420-602 Michael Whitby; Part III. East and West: Economy and Society: 12. Land, labour and settlement Bryan Ward-Perkins; 13. Specialised production and exchange Bryan Ward-Perkins; 14. The family in the late Roman world Andrea Giardina; 15. Family and friendship in the West Ian Wood; 16. State, lordship and community in the West (c. AD 400-600) Peter Heather; 17. Armies and society in the later Roman world Michael Whitby; Part IV. The Provinces and the Non-Roman World: 18. The north-western provinces Ian N. Wood; 19. Italy, AD 425-605 Mark Humphries; 20. Vandals and Byzantine Africa Averil Cameron; 21a. Asia Minor and Cyprus Charlotte Roueche; 21b. Syria, Palestine and Mesopotamia Hugh Kennedy; 21c. Egypt James G. Keenan; 22a. The Sasanid monarchy Ze'ev Rubin; 22b. Armenia in the fifth and sixth centuries R. W. Thomson; 22c. The Arabs Lawrence I. Conrad; 23. The Balkans and Greece, 420-602 Michael Whitby; Part V. Religions and Culture: 24. The organization of the Church S. G. Hall; 25. Monasticism Philip Rousseau; 26 Holy men Peter Brown; 27. The definition and enforcement of orthodoxy Pauline Allen; 28. Philosophy and philosophical schools Anne Sheppard; 29. Education in the Roman Empire Robert Browning; 30. The visual arts Robin Cormack; 31. Building and architecture Marlia Mundell Mango; Conclusion.
Categories
Non-Fiction History, Politics & Philosophy History General & World History
Non-Fiction History, Politics & Philosophy History History: Earliest Times To Present Day Ancient History: To C 500 CE