The Discovery of Slowness
A Paperback edition by Sten Nadolny in English (May 1, 2005)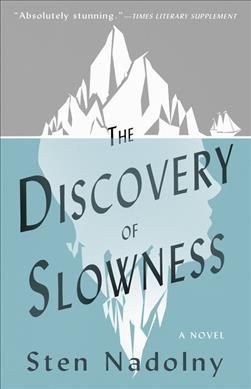 FREE delivery to United States in 4-8 working days

Ready To Go

This book will leave our US warehouse within 1-2 working days.
Short Description: "Absolutely stunning."Times Literary Supplement... Read more
Product Description
"Absolutely stunning."Times Literary Supplement
"This remarkable, superbly translated novel derives from the life of the real 19th century explorer John Franklin[whose] adventures are conveyed with spellbinding skill."Publishers Weekly
The Discovery of Slownessa huge commercial and critical success across Europe, where it is considered the popular author's masterpiecerecounts the life of the nineteenth-century British explorer Sir John Franklin (1786-1847).
Through the author's acute reading of history and his marvelous storytelling prowess, the reader follows John Franklin's development from awkward schoolboy and ridiculed teenager to expedition leader, governor of Tasmania, and icon of adventure. Slow and deliberate from boyhood, Franklin appeared destined to be a misfit. But he escaped from the ever-expanding world of industry and Empire to the sea's silent landscape, where the universe seemed more manageable. At age fourteen he joined the navy. After surviving the harrowing battles of Copenhagen and Trafalgar, he embarked on several voyages of discovery into the Canadian North, and served as governor of Van Diemen's Land (now Tasmania). Everyone with whom he came into contact sensed that Franklin was a rare man, one who was out of his time? and who moved to a different, grander beat. That beat eventually led Franklin to sail once moreon his final, fateful voyageinto the Arctic in search of the Northwest Passage.
The Discovery of Slowness is a riveting account of a remarkable and varied life. And it is also a profound and thought-provoking meditation on time. The result is an unforgettable and deeply moving reading experience that justifies the novel's reputation as one of the classics of contemporary world literature.
***
"Nadolny evinces remarkable empathy with his unlikely Odysseus and Ralph Freedman's translation captures the crystalline freshness of the author's imagery."Washington Post Book World
"The Discovery of Slowness is a masterpiece of characterization, a portrait of inwardness in the most outward-thrusting of lives."The New Republic
"Fluid and suspenseful, a thought-provoking reminder of contemporary society's tendency to speed through everyday life."The Providence Journal-Bulletin
"AmazingHis book is a historical painting, a seafarer's novel, a love story, an outcast's story all in one. This variety appears very harmonious, just as it incidentally, almost secretly, reflects on our right to discover the world at our own, personal pace."Frankfurter Allegemeine Zeitung
"Sir John Franklin is the embodied contrast to the frenetic agitation of the modern world. The discovery of slowness is the slowness of discovery."New York Review of Books
"Nadolny's vision is conveyed with restraint and charmHe has written a Utopia of character."New York Times Book Review
"Its appeal lies in its observation of the texture of life, seen by a character who has to work everything out from first principles. It needs to be read slowly, to be absorbed as much as understood."Scotland On Sunday
"This is more than an adventure; it's a meditation on time and perceptionNot to be rushed, or forgotten."The Herald
"Nadolny brilliantly sets the narrative pace to the rhythms of the frozen landscape, and to the 'slowness which is bred by hunger.'"Robert MacFarlane
"This is both a wonderful historical novel and a spell-binding individual portraitThis is a marvellous translation of a masterly work."The Observer
Sten Nadolny (b. 1942) was an historian and filmmaker, before writing four novels and two collections of essays. He lives in Berlin and has been awarded four prizes: Ingeborg Bachmann (1981), Hans-Fallada (1985), Premio Vallo
The Discovery of Slowness Paperback edition by Sten Nadolny
Product Details
Product Specification
Author

Translated by

Foreword by

ISBN-13

9781589880245

Format

Paperback,

Publisher

Publication date

May 1, 2005

Edition

Paul Dry Books

Pages

325

Product dimensions

140 x 213 x 20mm

Weight

498g
Categories