The Ecological Hoofprint
: The Global Burden of Industrial Livestock
A Paperback edition by Anthony Weis and Tony Weis in English (Nov 14, 2013)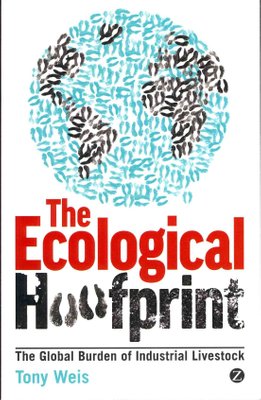 $23.33 + FREE delivery
RRP $26.95 You save $3.62 (13%)
FREE delivery to United States in 6-12 working days

Ready To Go

This book will leave our UK warehouse within 1-2 working days.

Order by 14th December for Christmas delivery to the United States
Short Description: The exploding global consumption of meat is implicated in momentous but greatly underappreciated problems, and industrial livestock production is the driving force behind soaring... Read more
Product Description
The exploding global consumption of meat is implicated in momentous but greatly underappreciated problems, and industrial livestock production is the driving force behind soaring demand.
Following his previous groundbreaking Zed book The Global Food Economy, Tony Weis explains clearly why the growth and industrialization of livestock production is a central part of the accelerating biophysical contradictions of industrial capitalist agriculture.
The Ecological Hoofprint provides a rigorous and eye-opening way of understanding what this system means for the health of the planet, how it contributes to worsening human inequality, and how it constitutes a profound but invisible aspect of the violence of everyday life.
The Ecological Hoofprint Paperback edition by Anthony Weis