The Epic of Gilgamesh
A Paperback edition by Andrew George and Richard Pasco in English and Akkadian (Mar 31, 1970)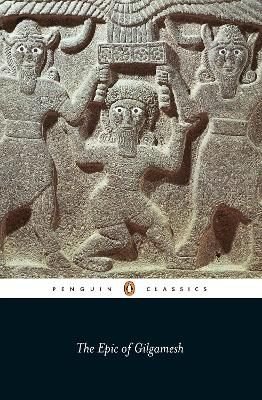 Short Description: N. K. Sandars's landmark translation of one of the first and greatest works of Western literature... Read more
Product Description
N. K. Sandars's landmark translation of one of the first and greatest works of Western literature
Gilgamesh, King of Uruk, and his companion Enkidu are the only heroes to have survived from the ancient literature of Babylon, immortalized in this epic poem that dates back to the third millennium BC. Together they journey to the Spring of Youth, defeat the Bull of Heaven and slay the monster Humbaba. When Enkidu dies, Gilgamesh's grief and fear of death are such that they lead him to undertake a quest for eternal life. A timeless tale of morality, tragedy and pure adventure, The Epic of Gilgamesh is a landmark literary exploration of man's search for immortality.
N. K. Sandars's lucid, accessible translation is prefaced by a detailed introduction that examines the narrative and historical context of the work. In addition, there is a glossary of names and a map of the Ancient Orient.
For more than seventy years, Penguin has been the leading publisher of classic literature in the English-speaking world. With more than 1,700 titles, Penguin Classics represents a global bookshelf of the best works throughout history and across genres and disciplines. Readers trust the series to provide authoritative texts enhanced by introductions and notes by distinguished scholars and contemporary authors, as well as up-to-date translations by award-winning translators.
The Epic of Gilgamesh Paperback edition by N. K. Sandars
Product Details
Product Specification
Translated by

Author

Introduction by

Author

ISBN-13

9780140441000

Format

Paperback,

Publishers

Publication date

Mar 31, 1970

Edition

Revised.

Pages

128

Product dimensions

129 x 197 x 9mm

Weight

90g
Introduction: the history of the epic; the discovery of the tablets; the historical background; the literary background; the hero of the epic; the principal gods of the epic; the story; survival; the diction of the epic; remarks on this version. "The Epic of Gilgamesh": Gilgamesh King in Uruk; the coming of Enkidu; the forest journey; Ishtar and Gilgamesh, and the death of Enkidu; the search for everlasting life; the story of the flood; the return; the death of Gilgamesh.
Categories
Non-Fiction Poetry Poetry By Individual Poets