The Eroticization of Distance
: Nietzsche, Blanchot, and the Legacy of Courtly Love
A Hardback edition by Joseph D. Kuzma in English (Jul 26, 2016)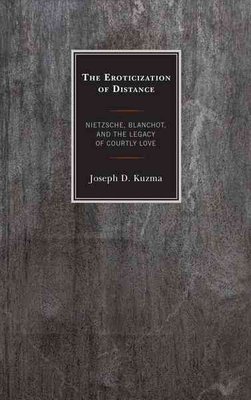 Fewer than 10 available at this price
Short Description: In this book, Joseph Kuzma explores the significance of courtly erotic themes in Friedrich Nietzsche's mature philosophy and Maurice Blanchot's writings of the 1940s and early... Read more
Product Description
In this book, Joseph Kuzma explores the significance of courtly erotic themes in Friedrich Nietzsche's mature philosophy and Maurice Blanchot's writings of the 1940s and early 1950s. Rather than offering an account of erotic relationality that prioritizes reconciliation, fulfilment, or release, Nietzsche attempts to formulate a non-teleological eroticism that aims at nothing but the perpetual intensification of desire. This book suggests that it is Blanchot who carries Nietzsche's courtly erotic tendencies to their most provocative point, by highlighting potentials for intimate relationality that might be established through a shared experience of dispossession and loss.
The Eroticization of Distance Hardback edition by Joseph D. Kuzma
Product Details
Product Specification
Author

ISBN-13

9781498524384

Format

Hardback,

Publisher

Publication date

Jul 26, 2016

Pages

168

Product dimensions

165 x 235 x 19mm

Weight

435g
Introduction Chapter 1: Courtship and Despondency Chapter 2: Nietzsche and the Ecstasy of Transmogrification Chapter 3: Nietzsche's Rehabilitation of Erotic Distance Chapter 4: Blanchot's Eroticization of Distance Chapter 5: Dechirement, Sacrifice, and Refusal Chapter 6: Impersonal Intimacy and the Ruins of Shattered Time Conclusion: "This Beating of a Hesitant Heart"
Categories
Non-Fiction History, Politics & Philosophy Philosophy Philosophy: Epistemology & Theory Of Knowledge