The Evolution of Adam
: What the Bible Does and Doesn't Say about Human Origins
A Paperback edition by Peter Enns in English (Jan 1, 2012)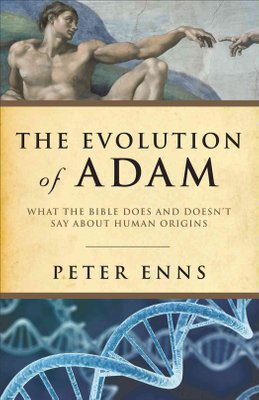 $15.51 + FREE delivery
RRP $20.00 You save $4.49 (22%)
Short Description: "Can Christianity and evolution coexist? Traditional Christian teaching presents Jesus as reversing the effects of the fall of Adam. However, an evolutionary view of beginnings... Read more
Product Description
"Can Christianity and evolution coexist? Traditional Christian teaching presents Jesus as reversing the effects of the fall of Adam. However, an evolutionary view of beginnings doesn't allow for a historical Adam, making evolution seem incompatible with what Genesis and the apostle Paul say about him. For Christians who accept evolution and want to take the Bible seriously, this presents a tension that endangers faith. Peter Enns offers a way forward by explaining how this tension is caused not by the discoveries of science but by false expectations about the biblical texts. Focusing on key biblical passages in the discussion, Enns demonstrates that the author of Genesis and the apostle Paul wrote to ask and answer ancient questions for ancient people; the fact that they both speak of Adam does not determine whether Christians can accept evolution. This thought-provoking book reconciles the teachings of the Bible with the widely held evolutionary view of beginnings and will appeal to anyone interested inthe Christianity-evolution debate, including college and seminary students in science and religion courses." -- Publisher description.
The Evolution of Adam Paperback edition by Peter Enns
Product Details
Product Specification
Author

ISBN-13

9781587433153

Format

Paperback,

Publishers

Publication date

Jan 1, 2012

Pages

192

Product dimensions

140 x 217 x 13mm

Weight

226g
Introduction
Part 1: Genesis: An Ancient Story of Israelite Self-Definition
1. Genesis and the Challenges of the Nineteenth Century: Science, Biblical Criticism, and Biblical Archaeology
2. When Was Genesis Written?
3. Israel's Neighbors' Stories of Origins
4. Israel and Primordial Time
Part 2: Understanding Paul's Adam
5. Paul's Adam and the Old Testament
6. Paul as an Ancient Interpreter of the Old Testament
7. Paul's Adam
Conclusion
Index
Categories
Non-Fiction Religion Christianity Biblical Studies & Exegesis