The Greatest Crash
: How Contradictory Policies are Sinking the Global Economy
A Paperback edition by David Kauders (Nov 1, 2011)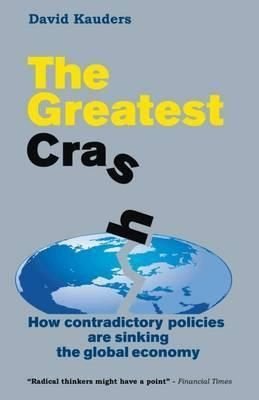 $18.39 + FREE delivery
RRP $29.00 You save $10.61 (36%)
Short Description: The Greatest Crash: How contradictory policies are sinking the global economy explains why the global economy is still struggling. All existing policies have limits or... Read more
Product Description
The Greatest Crash: How contradictory policies are sinking the global economy explains why the global economy is still struggling. All existing policies have limits or contradictions, says David Kauders. Indeed, new policies espoused by governments may be making matters worse. This book is written for the general reader, with clear and direct explanations. The content is wide ranging, covering, as examples: - the wishful thinking endemic in the recent past; - why rescues and bail-outs are self defeating; - how group think rules our critical faculties; - academic differences of opinion, and undue reliance placed on academic theories; - the need for evolution rather than prescriptive control. But, in addition to the popular appeal, this book will also add to understanding and therefore be saleable in business and academic markets, including finance, economics, politics and society.
Product Details
Product Specification
Author

ISBN-13

9781907230318

Format

Paperback,

Publisher

Publication date

Nov 1, 2011

Pages

168

Product dimensions

156 x 234 x 14mm

Weight

240g
Key themes explored in the book: - How the financial system evolved by trial and error. - The build up to the credit crunch. - Wishful thinking with numbers, and more. - Paradoxes of our times and policy contradictions. - Group think. - Academic differences of opinion. - The dark side of capital markets. - The attitude change.
Categories
Business & economics Economics Economic & financial crises & disasters