The Greatest Crash
: How Contradictory Policies are Sinking the Global Economy
A Paperback edition by David Kauders in English (Nov 1, 2011)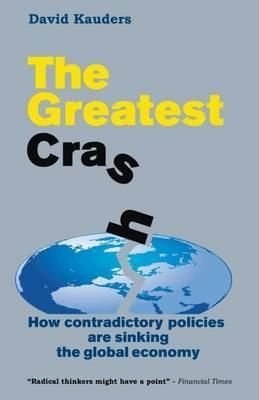 Short Description: "Radical thinkers might have a point" - Financial Times... Read more
Product Description
"Radical thinkers might have a point" - Financial Times
The Greatest Crash argues that the financial system which evolved from the early Italian bankers has now reached a roadblock. The weight of debt already created prevents further economic expansion, while paying down the debt shrinks economies. To escape this trap, evolution is needed. But bureaucratic design, delegated government, and group think, all combine to prevent evolution.
The Greatest Crash Paperback edition by David Kauders
Product Details
Product Specification
Author

ISBN-13

9781907230318

Format

Paperback,

Publisher

Publication date

Nov 1, 2011

Pages

192

Product dimensions

142 x 218 x 14mm

Weight

304g
Key themes explored in the book: - How the financial system evolved by trial and error. - The build up to the credit crunch. - Wishful thinking with numbers, and more. - Paradoxes of our times and policy contradictions. - Group think. - Academic differences of opinion. - The dark side of capital markets. - The attitude change.
Categories
Non-Fiction Business, Finance & Law Business & Economics Economics Economic & Financial Crises & Disasters