The Longevity List
: Myth busting the top ways to live a long and healthy life
A Paperback edition by Merlin Thomas in English (Sep 1, 2017)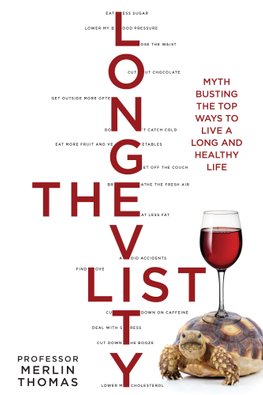 Short Description: Red wine is good for us. Alcohol is bad for us. Cut out sugar. Eat less fat. Eat more fat. Every day we're bombarded by often-contradictory advice on what to do to keep ourselves... Read more
Product Description
Red wine is good for us. Alcohol is bad for us. Cut out sugar. Eat less fat. Eat more fat. Every day we're bombarded by often-contradictory advice on what to do to keep ourselves healthy.
How can we separate fact from fad? Written by medical clinician Merlin Thomas, this is the ultimate myth-busting guide to what will help you live a long and healthy life. Professor Thomas looks at each item on the "longevity list", analyzes why it's come to be considered a health priority, and gives his scientifically backed verdict on how much attention we really need to pay to it.
Along the way you'll discover stacks of intriguing, entertaining, and often very funny facts. Why do people get drunk more quickly on champagne? Is caffeine really a performance-enhancing drug? Can chocolate improve your sex life? This is the one-stop checklist to living a life that might just see you reach your 100th birthday and beyond!
The Longevity List Paperback edition by Merlin Thomas
Product Details
Product Specification
Author

ISBN-13

9781921966736

Format

Paperback,

Publisher

Publication date

Sep 1, 2017

Pages

272

Product dimensions

159 x 227 x 23mm

Weight

607g
Introduction
Do I really have to ...
#1 Cut out the chocolate?
#2 Cut down on the booze?
#3 Cut down on the caffeine?
#4 Lose the waist?
#5 Get off the couch?
#6 Eat less fat?
#7 Eat less added sugar?
#8 Cut out the starch?
#9 Eat more fruit and vegetables?
#10 Lower my cholesterol?
#11 Lower my blood pressure?
#12 Breathe fresh air?
#13 Get more sunshine?
#14 Not catch cold?
#15 Avoid accidents?
#16 Deal with stress?
#17 Find love?
Read more about ...
Index
Categories
Non-Fiction Health & Lifestyle Family & Health
Non-Fiction Health & Lifestyle Family & Health Popular Medicine & Health