The Maid or Mariendorpt
: A Play in Five Acts (Classic Reprint)
A Paperback edition by James Sheridan Knowles in English (Dec 13, 2018)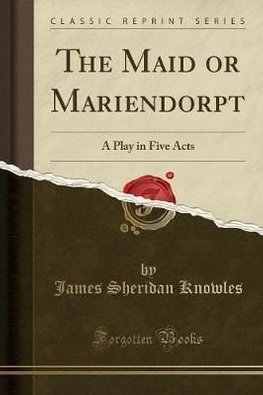 Short Description: Excerpt from The Maid or Mariendorpt: A Play in Five Acts ... Read more
Product Description
Excerpt from The Maid or Mariendorpt: A Play in Five Acts
Scene I. - A Garden, low garden wall, and a House
Enter a Courier.
Courier. Hoa, there! You in the garden there!
Hang, (without.) Anan! [Enters.
Good day, Sir. A fine morning-. Did you call?
O Esther! Esther!
Courier. Who lives here?
Hans. My master.
Courier. That know I well as you do! Do you think I took you for the owner of the house?
Hans. I never said you did. O Esther!
Courier. Who
Lives here?
Hans. My master, as I said before.
Courier. You sluggish-witted knave! I want to know Your master's name.
Hans. Couldn't you tell me so
At once? What need of goinground about,
The gate before your nose? Why give you talk,
And call you names, when all the fault's your own?
How could I guess it was my master's name
You wished to know - O Esther!
Courier. Who lives here?
Hans. The minister of Mariendorpt.
Courier. Is that
Thy master's name?
Hans. Why 'tis all one. His name
Is Muhldenau, and he's the minister
Of Mariendorpt.
About the Publisher
Forgotten Books publishes hundreds of thousands of rare and classic books. Find more at www.forgottenbooks.com
This book is a reproduction of an important historical work. Forgotten Books uses state-of-the-art technology to digitally reconstruct the work, preserving the original format whilst repairing imperfections present in the aged copy. In rare cases, an imperfection in the original, such as a blemish or missing page, may be replicated in our edition. We do, however, repair the vast majority of imperfections successfully; any imperfections that remain are intentionally left to preserve the state of such historical works.
The Maid or Mariendorpt Paperback edition by James Sheridan Knowles