The Mindful Vegan
: A 30-Day Plan for Finding Health, Balance, Peace, and Happiness
A Hardback edition by Lani Muelrath in English (Oct 10, 2017)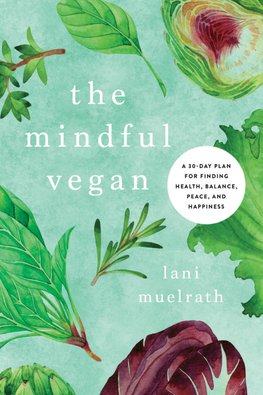 FREE delivery to United States in 6-12 working days

Ready To Go

This book will leave our UK warehouse within 1-2 working days.

Order by 14th December for Christmas delivery to the United States
Short Description: Discusses mindfulness meditation and how its practice can foster a more balanced view of the role of food, effect a change in overeating, and provide a rational for committing to a... Read more
Product Description
Discusses mindfulness meditation and how its practice can foster a more balanced view of the role of food, effect a change in overeating, and provide a rational for committing to a plant-based diet and a vegan lifestyle.
The Mindful Vegan Hardback edition by Lani Muelrath
Product Details
Product Specification
Author

ISBN-13

9781944648473

Format

Hardback,

Publisher

Publication date

Oct 10, 2017

Pages

320

Product dimensions

169 x 243 x 27mm

Weight

494g
Foreword by Neal Barnard, MD
Introduction
Part One: Freedom
On to Something
My Watershed Moment
Part Two: The Thirty-Day Plan
Presence of Mind
Day One: Beginning Practice: Position
Day Two: Beginning Practice: Anchor
Day Three: Beginning Practice: Intention and Remindfulness
Day Four: Am I Doing It "Right"?
Day Five: Wandering Mind, Unhappy Mind?
Day Six: Must Be Present to Win
Day Seven: Bodily Sensations
Day Eight: Meditation on Bodily Sensations
Day Nine: Body Scan
Day Ten: Kathryn-From Food Free Fall to Eating Freedom
Day Eleven: Hindrances, Antidotes, and Helping Factors
Day Twelve: Big Diet, Binges, and a Better Way
Day Thirteen: Becoming Vegan
Day Fourteen: The Mindful Vegan Plate
Day Fifteen: Meditation on Emotions
Day Sixteen: RAIN
Day Seventeen: Moods and Foods
Day Eighteen: Moods and Mindfulness
Day Nineteen: Higher Ground and Mindfully Navigating Conversations
Day Twenty: Cultivating Kindness and Compassion
Day Twenty-One: Attractivism
Day Twenty-Two: Spectrum of Mindfulness Practices
Day Twenty-Three: Your Naturally Healthy Body and Weight
Day Twenty-Four: The Pure Joy of Eating
Day Twenty-Five: Cravings
Day Twenty-Six: Addiction, Part One
Day Twenty-Seven: Addiction, Part Two
Day Twenty-Eight: Mindful Movement
Day Twenty-Nine: Stress and Anxiety
Day Thirty: A Path with Heart
Day Thirty-One and Beyond
Part Three: Recipes
Breakfast
Mom's Baking Powder Biscuits with Almonds
French Toast
Dressing and Sauces
Sage Advice Double Mushroom Gravy
Lemon Cherry Salad Dressing
Turtle Beach Enchilada Sauce
Salads and Savory Mains
Apple-Jicama Slaw
Kitchari
Easy Stack-and-Go One-Pan Enchiladas
Sweet and Sour Soy Curls
Sweet Finishes
Chocolate Mousse
Vegan Cherry Garcia Ice Cream
Berry Good Ice Cream
Resources
Endnotes
Index
Acknowledgments
About the Author
Categories
Non-Fiction Health & Lifestyle Family & Health Popular Medicine & Health
Non-Fiction Sport & Fitness Fitness & Diet Diets & Dieting
Non-Fiction Health & Lifestyle Mind, Body, Spirit Complementary Therapies, Healing & Health
Non-Fiction Health & Lifestyle Mind, Body, Spirit Mind, Body, Spirit: Meditation & Visualisation