The Multilingual Lexicon
A Paperback edition by Jasone Cenoz in English (Dec 1, 2010)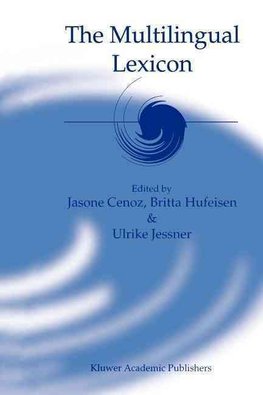 Short Description: This book is unique because it explores the multilingual lexicon by providing insights from research studies conducted in psycholinguistics, applied linguistics and... Read more
Product Description
This book is unique because it explores the multilingual lexicon by providing insights from research studies conducted in psycholinguistics, applied linguistics and neurolinguistics. It goes beyond the use of two languages and thus concentrates on a new and developing area in linguistic research. The different perspectives provide a link to the mainstream work on the lexicon and vocabulary acquisition and will stimulate further debate in these areas and in the study of multilingualism.
The Multilingual Lexicon Paperback edition by Jasone Cenoz
Product Details
Product Specification
Edited by

Edited by

Edited by

ISBN-13

9789048163922

Format

Paperback,

Publisher

Publication date

Dec 1, 2010

Edition

Softcover reprint of the original 1st ed. 2003

Pages

208

Product dimensions

155 x 235 x 12mm

Weight

345g
Acknowledgements. Contributors.
1. Why investigate the multilingual lexicon? J. Cenoz, B. Hufeisen
3. The transfer-appropriate-processing approach and the trilingual's organisation of the lexicon; U. Schoenpflug.
4. The nature of cross-linguistic interaction in the multilingual system; U. Jessner.
5. Activation of lemmas in the multilingual mental lexicon and transfer in third language learning; Longxing Wei.
6. Parasitism as a default mechanism in L3 vocabulary acquisition; C.J. Hall, P. Ecke.
7. Investigating the role of prior foreign language knowledge; M. Gibson, B. Hufeisen.
8. The role of typology in the organization of the multilingual lexicon; J. Cenoz.
9. A strategy model of multilingual learning; J. Muller-Lance.
10. Formulaic utterances in the multilingual context; C. Spoettl, M. McCarthy.
11. Lexicon in the brain: what neurobiology has to say about languages; R. Franceschini, D. Zappatore, C. Nitsch.
12. Perspectives on the multilingual lexicon: a critical synthesis; D. Singleton.
References. Index.
Categories
Non-Fiction Language & Reference Language & ELT Language: Reference & General
Non-Fiction Language & Reference Language & ELT Linguistics Psycholinguistics
Non-Fiction Language & Reference Language & ELT Language Teaching & Learning