The Natural Beauty Solution
: Break Free from Commerical Beauty Products Using Simple Recipes and Natural Ingredients
A Paperback edition by Mary Helen Leonard in English (Jul 23, 2015)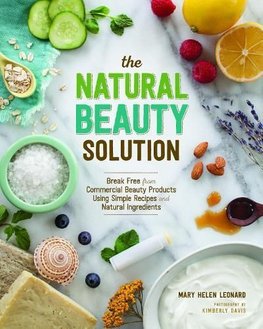 Short Description: You've stocked your kitchen with whole foods, and cleansed your cabinets of processed snacks, microwavemeals, and sugary desserts. After putting all of that effort into your... Read more
Product Description
You've stocked your kitchen with whole foods, and cleansed your cabinets of processed snacks, microwavemeals, and sugary desserts. After putting all of that effort into your natural, healthy lifestyle, it doesn't make a lot of sense to slather your body in chemical-laden commercially produced beauty products. You are what you eat, and your skin can absorb chemicals and additives just as easily as your stomach. With just a little extra effort, you can work handmade, natural beauty into your daily routine.The Natural Beauty Solution is a step-by-step guide to replacing commercial beauty products with a 100% natural routine. The Natural Beauty Solution features two-dozen easy-to-follow, customizable recipes for natural skin care. The ingredients and recipes not only provide a healthy alternative to mass-produced products, they make your skin and hair look their best, naturally. Common skin disorders, such as eczema, psoriasis,and acne are often aggravated by the chemical ingredients contained within commercial cosmetics. Chemical-based hair care can cause frizz, breakage, and scalp irritation. And, very often, it's the over the counter ?cures? that are the very thing that cause common skin and hair care problems. By breaking the cycle with a natural beauty routine, you can give your body a true beauty reset. The Natural Beauty Solution will help you completely overhaul your medicine cabinet, show you how to create simple natural recipes that are quick and affordable, and troubleshoot natural beauty methods to fit your specific skin and hair type. The beautiful color photography, the insightful and inspiring editorial, and the easy to create natural recipes will have you re-examining -- and re-directing -- your entire beauty routine to a natural beauty solution.
The Natural Beauty Solution Paperback edition by Mary Helen Leonard
Product Details
Product Specification
Author

ISBN-13

9781940611181

Format

Paperback,

Publisher

Publication date

Jul 23, 2015

Pages

144

Product dimensions

203 x 251 x 10mm

Weight

454g
Table Of Contents
Introduction: Why Go Natural
A Natural Step Toward Healthier Living / Medicine Cabinet Cleanse / Keep it Simple / Fresh is Best / Developing a Routine / How to Use this Book
Chapter One: Building Your Pantry
1.1 Introduction
1.2 Stocking Up
The Importance of Quality / Shopping Smart / Ingredient Storage and Shelf Life
1.3 The Essential Ingredients
Cold Process Soap / Cosmetic Grade Clay / Adzuki Bean Powder / Baking Soda / Soy Lecithin / Beeswax / Witch Hazel / Apple Cider Vinegar / Sea Salt / Raw Sugar / Carrier Oils / Vegetable Butters / Essential Oils
/ Hydrosols/ Eggs / Yogurt / Almonds / Fruit
1.4 Outro
Choosing the Right Ingredients for Your Own Routine
Chapter Two: Face
2.1 Introduction
Challenges & Rewards of DIY Facial Care / What to Expect
2.2 Everyday Recipes
The Oil Cleansing Method / Washing Grain Recipe / Toner Recipe / Moisturizing Facial Oil Recipe / Facial Cream Recipe / Lip Balm Recipe
2.3 Specialty Recipes
Deep Cleansing Masque / Alpha Hydroxy Facial / Soothing Cream Mask
Chapter Three: Body
3.1 Introduction
Challenges & Rewards of DIY Body Care / What to Expect
3.2 Everyday Recipes
Hand-Milled Soap Bars / Body Oil / Body Butter / Sugar or Salt Scrub / Deodorant
3.3 Specialty Recipes
Warming Massage Oil / Cuticle Oil / Pedicure Soak and Scrub / Almond and Yogurt Body Scrub
Chapter Four: Hair
4.1 Introduction
Challenges & Rewards of DIY Hair Care / What to Expect
4.2 Everyday Recipes
Baking Soda Wash / Hand-Milled Shampoo Bars / Apple Cider Vinegar Rinse
4.3 Specialty Recipes
Conditioning Oil / Egg Yolk Mask / Natural Detangler
Sidebars and Blurbs
Success Stories: Testimonials from natural beauty converts
Life After Shampoo / How I Broke my Fragrance Addiction / Giving Eczema the Axe
FAQ: Common questions about natural beauty
Is it expensive? / Does your hair smell like vinegar? / I'm just too busy.
Troubleshooting: Tips and troubleshooting for adjusting to natural beauty Itchy Scalp / Acne / Dry Skin / Bad Hair Days
Feed Your Head: Facts, history, and trivia on natural beauty
Detergent vs. Soap: The important distinctions between natural soap and sulfate detergents / Sunscreen: A notable exception to DIY skincare / Why do we shampoo?
Toxic Beauty: Information on hazardous chemicals commonly used in commercial skin care products Sulfates / Parabens / Phthalates / Fragrances / Petroleum
Categories
Non-Fiction Health & Lifestyle Family & Health Popular Medicine & Health
Non-Fiction Health & Lifestyle Family & Health
Non-Fiction Art, Creative & Style Style Guides Cosmetics, Hair & Beauty