The Scots in Early Stuart Ireland
: Union and Separation in Two Kingdoms
A Hardback edition by David Edwards and Simon Egan in English (Nov 11, 2015)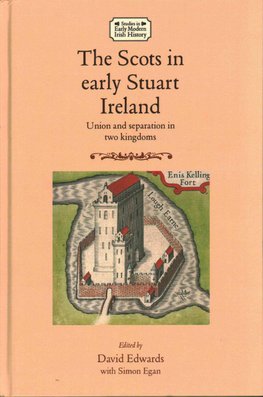 Short Description: By exploring Irish-Scottish connections during the period 1603-60 this book brings important new perspectives to the study of the Early Stuart state. Acknowledging the pivotal role... Read more
Product Description
By exploring Irish-Scottish connections during the period 1603-60 this book brings important new perspectives to the study of the Early Stuart state. Acknowledging the pivotal role of the Hiberno-Scottish world, it identifies some of the limits of England's Anglicising influence in the northern and western 'British Isles' and the often slight basis on which the Stuart pursuit of a new 'British' consciousness operated. Regarding the Anglo-Scottish relationship, it was chiefly in Ireland that the English and Scots intermingled after 1603, with a variety of consequences, often destabilising for English, Scots and Irish. The importance of the Gaelic sphere in Irish-Scottish connections also receives much greater attention here than in previous accounts. ThisGaedhealtacht played a central role in the transmission of religious radicalism, both Catholic and Protestant, in Ireland and Scotland, ultimately leading to political crisis and revolution within the British Isles.
The Scots in Early Stuart Ireland Hardback edition by David Edwards
Product Details
Product Specification
Author

Series edited by

Series edited by

With

ISBN-13

9780719097218

Series

Format

Hardback,

Publisher

Publication date

Nov 11, 2015

Pages

296

Product dimensions

165 x 242 x 25mm

Weight

589g
Introduction: Union and separation - David Edwards
1 Scottish officials and secular government in Early Stuart Ireland - David Edwards
2 'Scottish peers' in seventeenth-century Ireland - Jane Ohlmeyer
3 Scottish settlement and society in Plantation Ulster, 1610-40 - William Roulston
4 Scottish Protestant clergy and the origins of dissent in Ireland - Alan Ford
5 Scots Catholics in Ulster, 1610-41 - Brian Mac Cuarta
6 Confessionalisation and clan cohesion: Ireland's contribution to Scottish Catholic renewal in the seventeenth century - R. Scott Spurlock
7 The Irish Franciscan mission to the Highlands and Islands - Jason Harris
8 The Scottish response to the 1641 rebellion in Connacht: The case of Sir Frederick Hamilton - Aoife Duignan
9 The Scots of Ireland and the English Republic - Robert Armstrong
Index -- .
Categories
Non-Fiction History, Politics & Philosophy History History: Earliest Times To Present Day Early Modern History: C 1450/1500 To C 1700
Non-Fiction History, Politics & Philosophy History Regional & National History European History British & Irish History