The No.1 Book of Numbers Exploring the meaning and magic of numbers
A Hardback edition by Ruth Binney (Oct 4, 2018)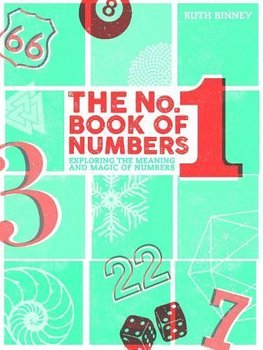 FREE delivery to United States in 6-12 working days

Ready To Go

This book will leave our UK warehouse within 1-2 working days.

Order by 14th December for Christmas delivery to the United States
Short Description: Why is 7 such a lucky number and 13 so unlucky? Why does a jury traditionally have `12 good men and true', and why are there 24 hours in the day and 60 seconds in a minute? This... Read more
Product Description
Why is 7 such a lucky number and 13 so unlucky? Why does a jury traditionally have `12 good men and true', and why are there 24 hours in the day and 60 seconds in a minute? This fascinating new book explores the world of numbers from pin numbers to book titles, and from the sixfold shape of snowflakes to the way our roads, houses and telephone numbers are designated in fact and fiction. Using the numbers themselves as its starting point it investigates everything from the origins and meaning of counting in early civilizations to numbers in proverbs, myths and nursery rhymes and the ancient `science' of numerology. It also focuses on the quirks of odds and evens, primes, on numbers in popular sports - and much, much more.
So whether you've ever wondered why Heinz has 57 varieties, why 999 is the UK's emergency phone number but 911 is used in America, why Coco Chanel chose No. 5 for her iconic perfume, or how the title Catch 22 was chosen, then this is the book for you. Dip in anywhere and you'll find that numbers are not just for adding and measuring but can be hugely entertaining and informative whether you're buying a diamond or choosing dinner from the menu.
The No.1 Book of Numbers Exploring the meaning and magic of numbers Hardback edition by Ruth Binney
Product Details
Product Specification
Author

ISBN-13

9781910821176

Format

Hardback,

Publisher

Publication date

Oct 4, 2018

Pages

208

Product dimensions

163 x 203 x 20mm

Weight

418g
THE NO 1 BOOK OF NUMBERS
Exploring the meaning and magic of numbers from lucky 7 to 1001 nights
RUTH BINNEY
CONTENTS
Foreword
SECTION ONE
NUMBERS OF MANY SORTS
Introduction
Numbers and counting
1 - The number of unity
2 - The duality
3 - The trinity of perfection
4 - Truth and justice
5 - The number of nature
6 - Without a fault
Six and the snowflake
7 - The symbol of fortune
The seven wonders of the world
Puzzles to solve
8 - Harmony and balance
9 - A number unbounded
The nine muses
10 - On our fingers and toes
11 - The final hour
12 - A number in time
The twelve labours of Hercules
13 - And other teens
0 - The story of zero
Lucky - and unlucky - numbers
Odds and evens
Many favourite numbers
The secrets of numerology
Big numbers
Small numbers
The appeal of primes
Making shapes with numbers
Numbers - more different types
Pi - the most famous numbers
Fibonacci - the brilliant number sequence
The golden ratio
SECTION TWO
THE WORLD AROUND US
Introduction
Measuring the world
Inventing the calendar
Time and the circle
The living world
A number for your home
Addresses in fiction
A dark history
The streets of power
Numbers for the post
Roads to take - navigating by numbers
The number to call
PIN - what's your number?
Edible connections
Sizing up our drinks
Of yarns, fabrics and clothes
All that glitters
Beauty by numbers
SECTION THREE
FOUR OUR LEISURE AND ENTERTAINMENT
Introduction
Proverbs and sayings
Bingo lingo
Books with numbers
In the film title
Counting in song
Jazz numbers
A musical miscellany
Poetry's secrets revealed
The beautiful game
The oval ball game - rugby football
The game of golf
Throwing darts
Cricket - bat on ball
On court - the game of tennis
Snooker and other cue games
Categories
Non-Fiction Engineering, Technology & Mathematics Mathematics Philosophy Of Mathematics
Non-Fiction Engineering, Technology & Mathematics Mathematics History Of Mathematics
Non-Fiction Science & Medicine Science: General Issues Popular Science Popular Mathematics