Oxford Reading Tree Story Sparks: Oxford Level 9: The Two Finlay Herberts
A Paperback edition by Kate Scott and Matt Robertson in English (Sep 10, 2015)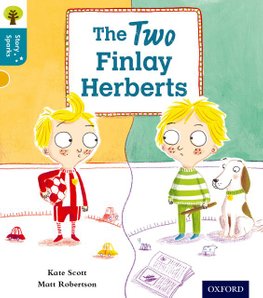 $10.91 + FREE delivery
RRP $12.25 You save $1.34 (10%)
Short Description: Finlay and Finlay share the same name but not much else except for their love of the Monster Pets computer game, and their annoying younger siblings! One day, theres a crackle and... Read more
Product Description
Finlay and Finlay share the same name but not much else except for their love of the Monster Pets computer game, and their annoying younger siblings! One day, theres a crackle and a pop, and the two Finlays swap lives ... The Two Finlay Herberts is an engaging tale about appreciating what you have in life, including younger siblings ... even if they are annoying!
Oxford Reading Tree Story Sparks is an emotionally-engaging fiction series that will fire children's imaginations. These 36 original stories will get children thinking, and develop and deepen their comprehension skills. The variety of authors and illustration styles broadens children's reading experience, with something to appeal to every child.
All the books in the series are carefully levelled, so it's easy to match every child to the right book for them. They also contain inside cover notes, to enable parents and teachers to support children in their reading. Help with children's reading development is also available at www.oxfordowl.co.uk.
Oxford Reading Tree Story Sparks: Oxford Level 9: The Two Finlay Herberts Paperback edition by Kate Scott