The Wild Genie
: The Healing Power of Menstruation
A Paperback edition by Alexandra Pope in English (Apr 24, 2014)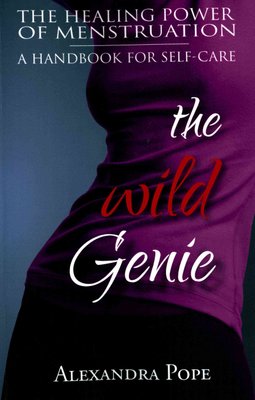 Short Description: Menstruation is power-the power of knowledge, understanding and love of your own mind, body and soul as a woman; the nourishment and nurturing of the Feminine-The Wild Genie. ... Read more
Product Description
Menstruation is power-the power of knowledge, understanding and love of your own mind, body and soul as a woman; the nourishment and nurturing of the Feminine-The Wild Genie.
Immediately engaging and beautifully written by Alexandra Pope, The Wild Genie is a self-care guide for all women who want to enjoy their cyclical nature and experience a fulfilling and healthy life. It is also for parents who wish to pass on a positive experience of menstruation to their daughters, and for men to help them gain an insight into the world of women.
The Wild Genie present a unique approach to menstruation that move beyond biology to restore a dignity and deep meaning to a woman's cyclical nature.
"...a courageous book...[that] is set to change the way a woman's menstrual cycle is viewed in Western society. Pope's vantage point has such resonance and potency as to be life-changing" Ruth Ostrow, The Weekend Australian
The Wild Genie Paperback edition by Alexandra Pope