Their One Night Baby
: Their One Night Baby (Paddington Children's Hospital, Book 1) / Forbidden to the Playboy Surgeon (Paddington Children's Hospital, Book 2)
A Paperback edition by Carol Marinelli and Fiona Lowe (Mar 23, 2017)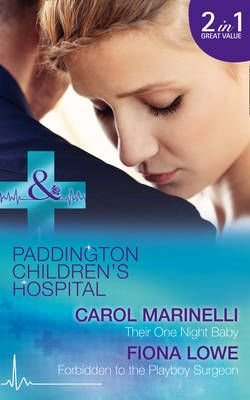 Sorry we don't currently have this.
Please click below and we will notify you when it is back in stock.
Short Description: Their One Night Baby... Read more
Product Description
Their One Night Baby
by Carol Marinelli
Working together to save Paddington Children's Hospital, Paramedic Victoria Christie and Dr Dominic MacBride never fail to challenge each other... Until one night, they discover a new way to relieve the tension...by turning their arguments into reckless abandon!
Dom came to Paddington's to escape a betrayal and has no intention of falling in love-but when Victoria reveals she's pregnant he finds himself re-evaluating his lone wolf status. Now he's fighting for the woman who fires his blood, and their surprise baby!
Forbidden to the Playboy Surgeon
by Fiona Lowe
Sparks fly from day one between playboy neurosurgeon Alastair North and his talented, sexy trainee surgeon, Claire Mitchell. He's on a mission to help uber-serious Claire relax, but his cavalier approach is driving her crazy.
Alistair is completely out of bounds, even if he is completely gorgeous-he's her boss! But when he confronts Claire after a difficult surgery desire overcomes reason. With secrets holding them both back, can they find a way to turn their forbidden passion into for ever?
Paddington Children's Hospital
Caring for children - and captivating hearts!
Their One Night Baby Paperback edition by Carol Marinelli
Product Details
Product Specification
Author

Author

ISBN-13

9780263926392

Format

Paperback,

Publishers

Publication date

Mar 23, 2017

Pages

384

Product dimensions

107 x 171 x 24mm

Weight

198g
Categories