Too Fat, Too Slutty, Too Loud
: The Rise and Reign of the Unruly Woman
A Hardback edition by Anne Helen Petersen in English (Sep 21, 2017)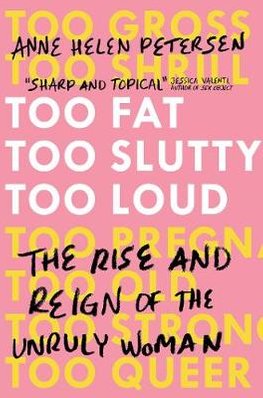 $16.32 + FREE delivery
RRP $17.30 You save $0.98 (5%)
FREE delivery to United States in 6-12 working days

Ready To Go

This book will leave our UK warehouse within 1-2 working days.
Short Description: **A Stylist Book Club pick**... Read more
Product Description
**A Stylist Book Club pick**
'In a time when women are under constant attack, I am so grateful for Anne Helen Petersen's sharp and topical book. Petersen nails the magnetism of women who break boundaries and the punishment that often comes along with it. All women will see a bit of themselves in the "unruly"' Jessica Valenti, New York Times-bestselling author of Sex Object
You know the type: the woman who won't shut up, who flaunts it, who's too brazen, too opinionated - too much. Sometimes, she's the life of the party; others, she's the focus of gossip. She's the unruly woman, and she's one of the most provocative, powerful forms of womanhood today.
The unruly woman has been around for as long as there have been boundaries of what constitutes acceptable 'feminine' behaviour - that is, for ever - but these days she is more visible and less easily dismissed than ever before. In Too Fat, Too Slutty, Too Loud, cultural critic and Buzzfeed writer Anne Helen Petersen explores 'unruliness' through the lens of eleven pop culture powerhouses, including Serena Williams, Melissa McCarthy, Nicki Minaj, Madonna, Kim Kardashian, Hillary Clinton, Caitlyn Jenner and Lena Dunham. Petersen examines why our culture loves to love and berate these controversial figures for being 'too' something: too queer, too strong, too naked, too old, too shrill, too much. This is an incisive, candid, conversation starting analysis of the part influential women play in redefining contemporary femininity.
'An oasis in a world of hot takes, a set of crisp essays on the provocateurs who fascinate and enrage us. With warmth and wit, Anne Helen Petersen celebrates the power of being just a little too much, seeking the rebel inside the trainwreck' Emily Nussbaum, New Yorker critic
'Raucous and smart . . . Because these criticisms are, writ large, the same ones flung daily at non-celeb women, the book is a timely and essential read' US Elle
'Anne Helen Petersen's gloriously bumptious, brash ode to nonconforming women suits the needs of this dark moment . . . Crucial reading' Rebecca Traister, author of All the Single Ladies
Too Fat, Too Slutty, Too Loud Hardback edition by Anne Helen Petersen