Turmeric Curcumin
: Superfood for Optimal Health: 18 Quick and Tasty Turmeric Recipes to Heal Cancer, Arthritis and Alzheimer's
A Paperback edition by Linda H Harris in English (Jun 18, 2015)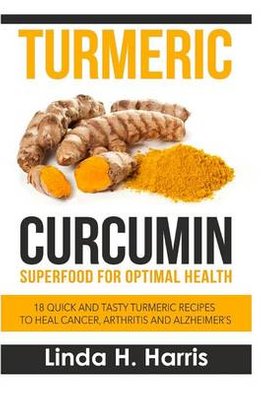 This product will not arrive in time Christmas

FREE delivery to United States in 11-18 working days
Short Description: Many people know turmeric curcumin as a flavor-filled spice and ingredient in yellow mustard and curry powder. The spice has a centuries-old medicinal usage treating many common... Read more
Product Description
Many people know turmeric curcumin as a flavor-filled spice and ingredient in yellow mustard and curry powder. The spice has a centuries-old medicinal usage treating many common ailments and diseases. For instance, turmeric is touted as a strong antioxidant in treating cancer while its anti-inflammatory actions lessen suffering from Alzheimer's Disease, arthritis and cardiovascular diseases.
Turmeric Curcumin: Superfood for Optimal Health introduces the history of turmeric curcumin and its outstanding benefits for anyone's health. This book presents substantial scientific evidence for the medicinal value of this miracle spice.
Adding turmeric curcumin to a health regimen is simpler than you might think. As an additive to food or beverage, and even as a dietary supplement, this outstanding "superfood" tastes great. Try the 18 delicious turmeric recipes in this book. They include Superbowl Honey and Turmeric Wings, Tandoori Tofu and Moroccan-flavored Pork Ragu.
Sounds great? Then, order the book and begin enjoying the goodness of this golden and healthy spice.
Turmeric Curcumin Paperback edition by Linda H Harris