Warship Jolly Roger Vol. 2
: Revenge
A Hardback edition by Sylvain Runberg in English (Dec 18, 2018)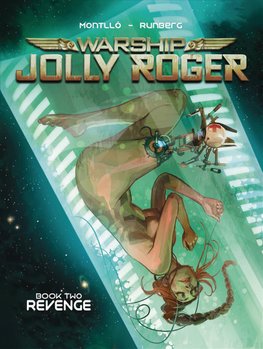 $18.23 + FREE delivery
RRP $19.99 You save $1.76 (8%)
Short Description: In a gritty, star-spanning future, wheremankind has colonized planets throughout the galaxy, former ConfederationCommander Jon T. Munro was serving a life sentence for a war crime... Read more
Product Description
In a gritty, star-spanning future, wheremankind has colonized planets throughout the galaxy, former ConfederationCommander Jon T. Munro was serving a life sentence for a war crime he was forcedto commit. When a prison break runs amok, however, he seizes the opportunity toescape with a ragtag team of cons to form a small crew of pirates with one goalin mind: vengeful justice. And the first step in their plan is to steal thebattle cruiser he once commanded, a state-of-the-art warship they call"The JollyRoger."
Following theevents in volume one, commander Jon Tiberius Munro is reeling from the death ofhis son, while Vexton, the man responsible, campaigns for the presidency of theGalactic Federation. Not only is Vexton preparing to claim the most powerfulseat in colonized space but also the hand of one of the galaxy's most popularholoactresses, Penelope, in a public spectacle of marriage. Everything seems tobe going Vexton's way, but he has no idea what lengths Munro and his crew willgo to for revenge...
A visuallystunning sci-fi adventure, written by Sylvain Runberg (Millennium), withbreathtaking artwork by Miquel Montllo, this epic tale of space pirates andpolitical intrigue combines the emotional depth and excitement of sci-fifavorites such as Battlestar Galactica and Starship Troopers witha visual style that leaps off the page like an animated featurefilm.
This second volumeconcludes the four-chapter tale of revenge (volume one contained the first twochapters), as each of the four lead antiheroes are revealed for the brokenindividuals they are, secretly desperate for redemption, no matter thecost.
Warship Jolly Roger Vol. 2 Hardback edition by Sylvain Runberg
Product Details
Product Specification
Author

Other

ISBN-13

9781942367420

Series

Format

Hardback,

Publisher

Publication date

Dec 18, 2018

Pages

120

Product dimensions

222 x 282 x 15mm

Weight

748g
Categories