Wild Life at the Land's End
: Observations of the Habits and Haunts of the Fox, Badger, Otter, Seal, Hare, and of Their Pursuers in Cornwall (Classic Reprint)
A Paperback edition by John Coulson Tregarthen (May 19, 2018)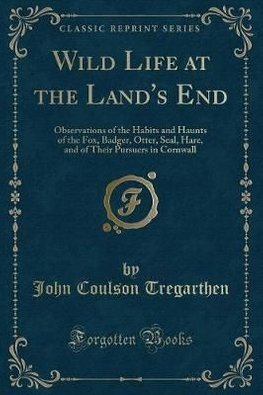 Short Description: Excerpt from Wild Life at the Land's End: Observations of the Habits and Haunts of the Fox, Badger, Otter, Seal, Hare, and of Their Pursuers in Cornwall ... Read more
Product Description
Excerpt from Wild Life at the Land's End: Observations of the Habits and Haunts of the Fox, Badger, Otter, Seal, Hare, and of Their Pursuers in Cornwall
The sports described have led me to some of the wildest and weirdest spots of West Cornwall. There are few tracts in England more rugged than the northern part of the peninsula that lies between the Land's End and St Ives. It is possible to travel across the moors from Crobben Hill to Chapel Cairn Brea without setting foot on cultivated ground. It is a boulder-strewn waste, void of trees, where the grey of the granite mingles in spring and autumn with the gold of the gorse that, with heather and bracken, clothes the undulating surface.
To the lover of nature the wild aspect of these breezy uplands is not without its charms; but the glory of the promontory is the ocean in which it is set. The great rampart of cliffs that holds back the Atlantic is broken here and there by beaches of white sand or minute shells, or by coves into which fall the trout-streams that rise in the granite hills above.
About the Publisher
Forgotten Books publishes hundreds of thousands of rare and classic books. Find more at www.forgottenbooks.com
This book is a reproduction of an important historical work. Forgotten Books uses state-of-the-art technology to digitally reconstruct the work, preserving the original format whilst repairing imperfections present in the aged copy. In rare cases, an imperfection in the original, such as a blemish or missing page, may be replicated in our edition. We do, however, repair the vast majority of imperfections successfully; any imperfections that remain are intentionally left to preserve the state of such historical works.
Wild Life at the Land's End Paperback edition by John Coulson Tregarthen