Winging It!
Parenting in the Middle of Life!
Other digital by Alex Jones (Apr 5, 2018)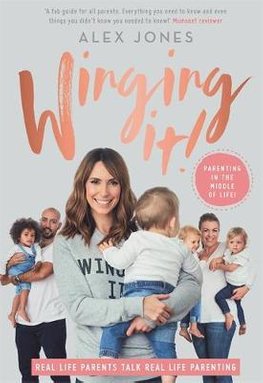 Sorry we don't currently have this.

Short Description: Real life parents talk real life parenting!... Read more
Product Description
Real life parents talk real life parenting!
Joining the parenting club in our thirties and beyond means that we are spinning an extraordinary amount of plates, often including a career at its peak. Most of us co-parent or fly solo in the true sense of the word, relying solely on our partners and/or friends when more often than not, extended family are too far away to help on a regular basis. Our parents could look to their parents for the usual guidance and extra support, but our situation is new, modern and unique. We are winging it!
This book isn't a guide or a parenting manual - it's more of a support group for parents who are having their children in their thirties and forties to get together, to celebrate, share experiences, laugh and find joy in what is still the biggest life changing experience any of us will ever go through. It's the book I looked for when I was pregnant, that spoke to me as a working parent and that I couldn't find so I've had a go at writing one myself.
Featuring:
- Expert advice from Zita West, Clemmie Hooper, Dr Sarah Jarvis, Mother Pukka, Zoe Williams, Selfish Mother and more.
- Hilarious and heart-warming anecdotes plus tips and tricks from parents winging it too.
We're re-writing the rule book and winging it, but we are winging it together!
Love,
Alex
Winging It! Other digital edition by Alex Jones