Women Drinking out in Britain Since the Early Twentieth Century
A Paperback edition by David W. Gutzke in English (Sep 20, 2015)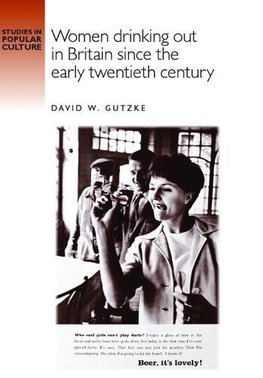 $24.43 + FREE delivery
RRP $27.95 You save $3.52 (12%)
Short Description: Women's drinking has attracted enormous attention in recent years, but surprisingly this topic has not produced a comprehensive survey covering the twentieth century. Students and... Read more
Product Description
Women's drinking has attracted enormous attention in recent years, but surprisingly this topic has not produced a comprehensive survey covering the twentieth century. Students and scholars alike can read this book to obtain a new perspective on women's drinking habits over more than a century, and the most critical factors promoting historical change.
Within a chronological framework, the book offers a way of conceptualising how women's drinking habits changed in response to wars, ideology, advertising, moral panics, sexism, legislative initiatives, employment, age, ethnicity, technology, new drinking venues, and marketing strategies. It focuses clearly on the bulk of women who drank alcohol responsibly, but, given concern recently over 'binge drinking', devotes attention to the rise of the youth market and problems associated with it. Brewers' efforts to entice women into drinking beer regularly spanned the decades since 1945, but consistently failed, with men increasingly drinking wine with women both in bars and at home. Close attention is also paid to the image of drinking, projected in advertising, the mass media and films.
Specialists will find this study vital for challenging traditional assumptions and offering original new interpretations about the diverse factors influencing women's consumption of alcohol. It provides students, both undergraduates and postgraduates, not just a wide survey, but new material, new ideas and new concepts in which to understand historical change for one huge group in British society. General readers, too, can easily read this book with both interest and enjoyment.
Women Drinking out in Britain Since the Early Twentieth Century Paperback edition by David W. Gutzke
Product Details
Product Specification
Author

ISBN-13

9780719052651

Series

Format

Paperback,

Publisher

Publication date

Sep 20, 2015

Edition

Reprint

Pages

304

Product dimensions

152 x 234 x 19mm

Weight

476g
Introduction
1. From the boozer to the improved public house
2. Women, war and drinking
3. Selling women
4. Bikinis, boots and booze
5. The more things change, the more (some) things remain the same
6. Drinking habits of their own
7. Wooing women
8. New money, new ideas, new women
9. A youth subculture of drinking
10. Yesterday's reforms, today's bingeing
11. Folk devils and moral panics: youth and women across a century of censure
Conclusion
Index -- .
Categories
Non-Fiction History, Politics & Philosophy History History: Specific Events & Topics Social & Cultural History
Non-Fiction History, Politics & Philosophy History History: Earliest Times To Present Day 20th Century History: C 1900 To C 2000
Non-Fiction History, Politics & Philosophy History Regional & National History European History British & Irish History